Meet our Team
Founder, Owner & Operator, Teacher
Michelle Lee

Michelle grew up in Kilbride, NL and moved to Mount Pearl at age 13. She played many sports all her life and believes it has shaped a lot of who she is today. A passion for teaching began early. She was a figure skating and hockey coach through her teenage years and early 20's.
But it wasn't until 2015 when Michelle stepped in the hot yoga room, that everything changed. She realized her purpose for being here on this earth. She had found her passion and everyday she aspires to give it away.
Join her on the mat for any reason you desire, she hopes it makes you FEEL something! Because THAT feeling will be the reason you will continue to take a seat on your mat!
"I hope you can find a practice here at the Bodhi studio, that makes you feel closer to your happiness. One that makes your body and mind feel good"
Much Love, Michelle
Our Teachers:
Julia-Marie Warren

It was "love at first practice" when Julia-Marie (JM), stepped onto her mat in 2012. She felt a passion for movement and combined with the mind/body part that is yoga, she felt an immediate connection.
With dedication and commitment Julia-Marie began to witness the many benefits of the practice. Most notably, the shift in perspective. It was this new life perspective that inspired her to complete a 500hr yoga teaching training with Moksha/Modo International. Fusing her love of learning with adventure, JM has since traveled globally to gain certification in; Vinyasa Krama Yoga under Srivatsa Ramaswami, as well as, Blissology Yoga under Eoin Finn. Always exploring new ways to move, JM is currently undergoing her first Barre Teaching Training, with hopes to add Barre classes to her offerings soon.
When you take a class led by Julia-Marie expect the energy you enter with to shift, as you link postures mindfully with breath. No matter the style or the day, JM will guide you safely through effective sequences, with space left to cultivate awareness and reflection. Embodying her teacher Eoins motto "We don't do yoga, we feel yoga". JM inspires to create opportunity for students to feel connection both mentally and physically.
Li Wang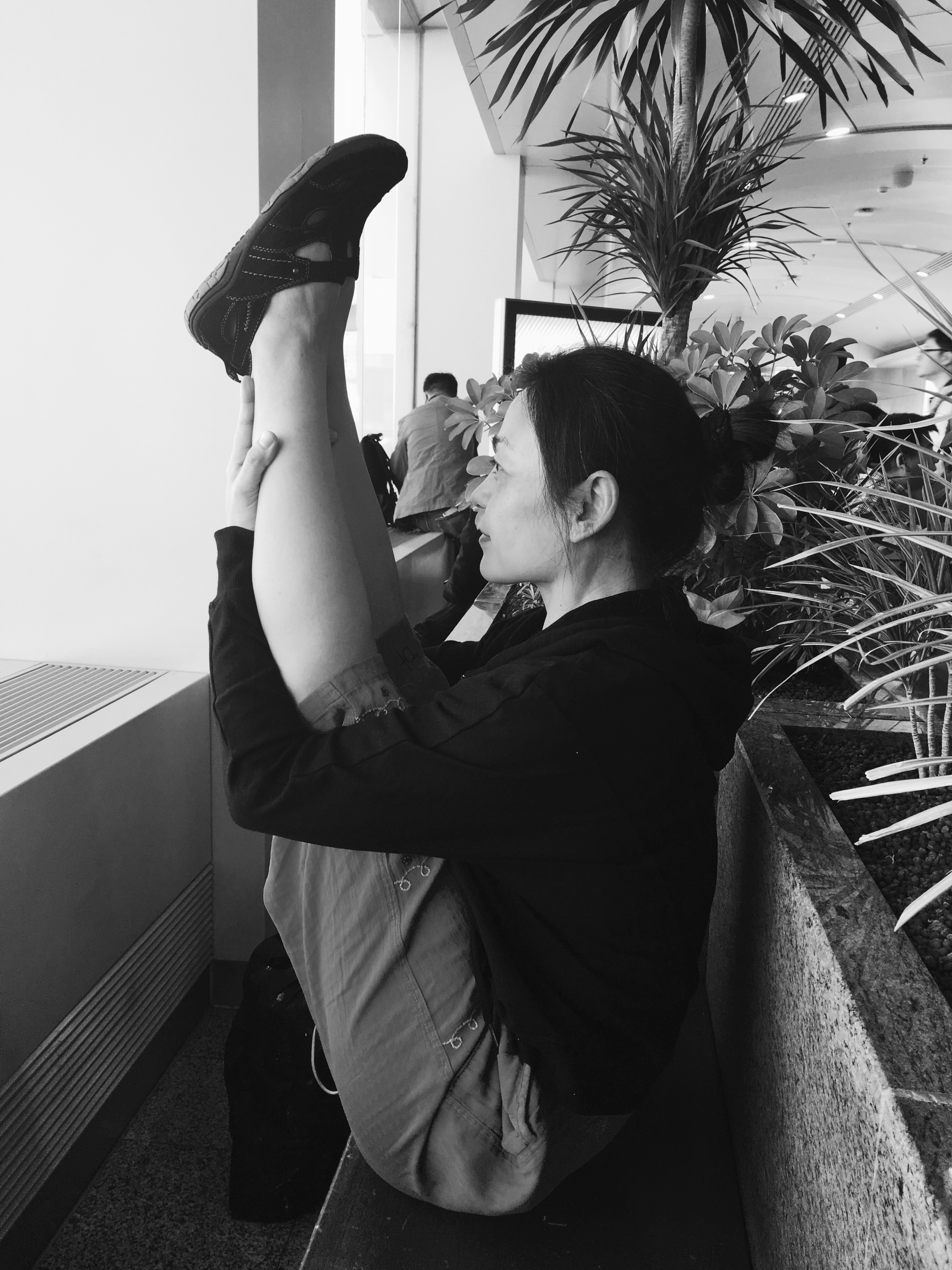 Li stumbled upon yoga in 2010 while in search of an alternative to surgery. Both her wrists which were severely affected by carpal tunnel syndrome (CTS). After six months of regular yoga practice, she was CTS free.
The therapeutic effects of yoga led Li to take a 500-hour Bikram hot Hatha yoga teacher training by Bikram Choudhury in Los Angeles, 50-hour Yin yoga teacher training by Bernie Clark, and 95-hour kids yoga teacher training by Jacqueline Maloney in Vancouver, 900-hour comprehensive yoga teacher training in Mumbai, and 90-hour Thai traditional massage in Bangkok. She's taught yoga classes in Canada, USA, China, Mexico, and India since 2011.
The more Li learns from her teachers, the more humbled she feels on her yogic journey to pure consciousness. Li delivers a class in a fashion that helps students truly connect breath with each movement. After all a calm breath calms the mind, and a balanced state of mind is yoga.
Namaste
Jordan Carter

Have you ever experienced energy medicine?
This process offers the potential to clear unwanted energies and limiting patterns allowing you to be the best, most empowered version of yourself. Jordan will be offering energy medicine to our community. Energy medicine helps heal and release past stories, emotional wounds, and personal traumas that hold us back in life.
The process includes a consultation to discover the root of the issues that cause undesirable impacts on your life. You then proceed to work on the subtle, energetic body to clear these imprints. The session concludes as you find an appropriate practice from shamanism or yoga for you to continue the healing process at home.
In addition, Jordan teaches meditation for anyone looking to experience the many uplifting benefits of the practice. He will be teaching guided classes once a week in our beautiful meditation room.
Follow Jordan at @yogicincentive for more uplifting content!
Sarah Hiscock

You've more than likely seen Sarah around the studio as she is a part of our Energy Exchange program and is always on her mat!
She has recently completed her 200hr intensive training this summer with Miranda Squires. She has also continued her personal study to expand her teachings to prenatal students. She is passionate about building an environment where all individuals feel safe and confident in their practice. Sarah brings a lot of energy and enthusiasm, a friendly approachable personality and an abundance of fresh yoga knowledge that she can't wait to share!
Kai Qui

Kevin was born and raised in the Yukon to two hard working immigrant parents from China. He grew up with access to untouched, rugged, and vast terrains that living in the North offered and developed an immense gratitude towards nature that has led him towards countless adventures within Canada and other parts of the world when he wasn't studying.
Kevin first discovered yoga in the winter of 2013 when he was studying in Toronto. He was introduced to the concepts of meditation and mindfulness while taking a Positive Psychology. Immediately after those two lectures, after Kevin had his little scientific mind blown from learning about mindfulness, and went and bought a copy of Full Catostrophe Living by Jon Kabat-Zinn that offered a self-taught 8-week Mindfulness-Based Stress Reduction program consisting of meditation and yoga.
He quickly developed a regular meditation and yoga practice and realized the physical, physiological, emotional, cognitive, and psychological benefits of the practice. In the summer of 2018, while he was taking a break from his medical school training at MUN, he completed a 50-hour Yin Yoga Training with Bernie Clark with the intentions of furthering his practice and possibly teaching down the road. 
Kevin is a heart-centred teacher and he wants to teach and share Yin Yoga as a moving, mindful meditation cultivating moment-by-moment awareness, compassion, and kindness. He believes that we are living in a sped-up, fast-paced, digitalizing world and we need the balance of Yin more than ever.
Laura Bass

Laura comes to us from British Columbia, where she has lived most of her life, and is returning to St. John's with her two beloved dogs and kitty to pursue an MSc in Kinesiology.

She first stepped on the mat in 2004 and fell in love with the peace, compassion, and acceptance of self that came with the practice of yoga. As a former figure skater, she enjoys the flow and movement that yoga offers, exploring balance, strength and breath through each pose.
Along with the spiritual and mental balance that yoga brings to her life, she enjoys the lightness of yoga through playing and exploring new and challenging poses. Expect her classes to involve playful exploration, dynamic flow, curiosity, detachment from ego, and a theme of self love and non-judgement.
Laura completed her yoga teacher training at Tandava Yoga in the discipline of Kripalu, and her Acro certification through Acro Yoga International. She enjoys continuing her education through workshops around the country and the USA.
She believes whole heartedly in lila- the divine play. She is passionate about community, connection, and the importance of joyous play and can't wait to share space with you!